Flower Arranging Classes & Workshops in Sheffield
How would you like to learn how to make your own flower arrangements? I offer bespoke workshops as well as regular flower classes. Most classes take place in my shop and cafe, which has a cooler full of beautiful seasonal flowers to choose from.
I have been a florist for 30 years and have been teaching regularly since 2008, passing on my knowledge and techniques to those who wish to learn.
The regular flower class at my shop is on Wednesday evening 7pm–9pm on a pay as you go basis. Materials are not provided for this class, however there is always plenty available to buy, you could bring your own, or do a bit of both. Each week there is a different design to make and take home to impress your friends and family.
The WEA (Workers Educational Association) also run two classes which I teach, Wednesday afternoon at St John's Church Hall, Totley 1pm–3pm, and at the MATREC centre on Prince of Wales Road on Fridays 9.15am-11.15am. For these classes, payment must be made up front for a block of 10 or 11 sessions, however there are concessions for anyone in receipt of benefits. All classes are for all levels of experience as a demonstration of each design is given every week. The classes are fun, relaxed and friendly. If you require any further information please contact me on 0114 2589700 or message me on [email protected]
Other workshops available throughout the year:-

An Introduction to Floristry -
A full day of basic floristry teaching including making 4 designs to take away with you, and my knowledge and expertise of the floristry trade, letting you in on various trade secrets, how to condition and care for your flowers, and how best to choose the flowers and foliages which suit your design. Sundays only. Includes lunch from our cafe.
10am - 4pm - refreshments and all materials included - £300 per person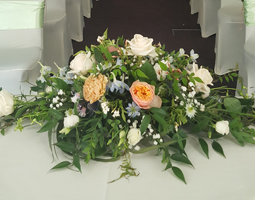 A Floral Hen Party, Birthday Party, in fact any party -
A perfect way to celebrate an up coming wedding, which every age group can enjoy. Have a go at making a beautiful table design, it could even be practice for the real thing, if you are looking for a more DIY wedding. A Saturday or Sunday afternoon 1.30pm - 3.30pm or evening 7pm - 9pm, light refreshments and a glass of fizz included to get the party started.
All materials and tools provided - £45 per person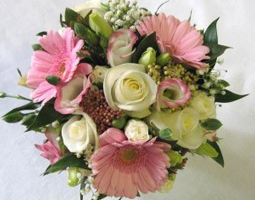 A Classic Hand Tied Bouquet -
How to make a professional hand tied bouquet with the correct spiralling technique, selecting the perfect, seasonal flowers and foliages from my cooler, and learning how best to care for your flowers. All materials and tools provided as well as light refreshments, or a glass of fizz for a celebration.
A Saturday or Sunday afternoon 1.30pm to 3.30pm or evening 7pm - 9pm - £55 per person
For the above classes, please contact me to arrange dates and times.
Below are some photographs of a Flower Festival I did with my classes and various designs made by me or my students.